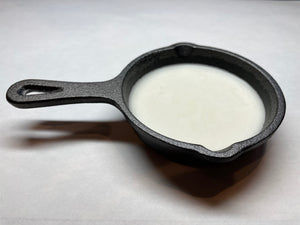 Cast Iron Wax Melter
Sale price Price $11.00 Regular price Unit price / per
3.5" diameter + 7/8" deep Cast Iron Mini Pan for your wax melts!  This will come ready to be melted with whatever scent you choose!  If you run out, our other wax melt products are perfect for refills!
If you don't have your own wax melter at home, this is perfect for you! Just put this on your stove (gas or electric) on low and it will melt this wax perfectly!  What's great is that the cast iron holds heat really well, so it actually keeps the wax melted even after you turn it off!  Bottom is about 3" in diameter, so it also works great on most wax melting hot plates.  
Rustic, adorable, perfect for your home!